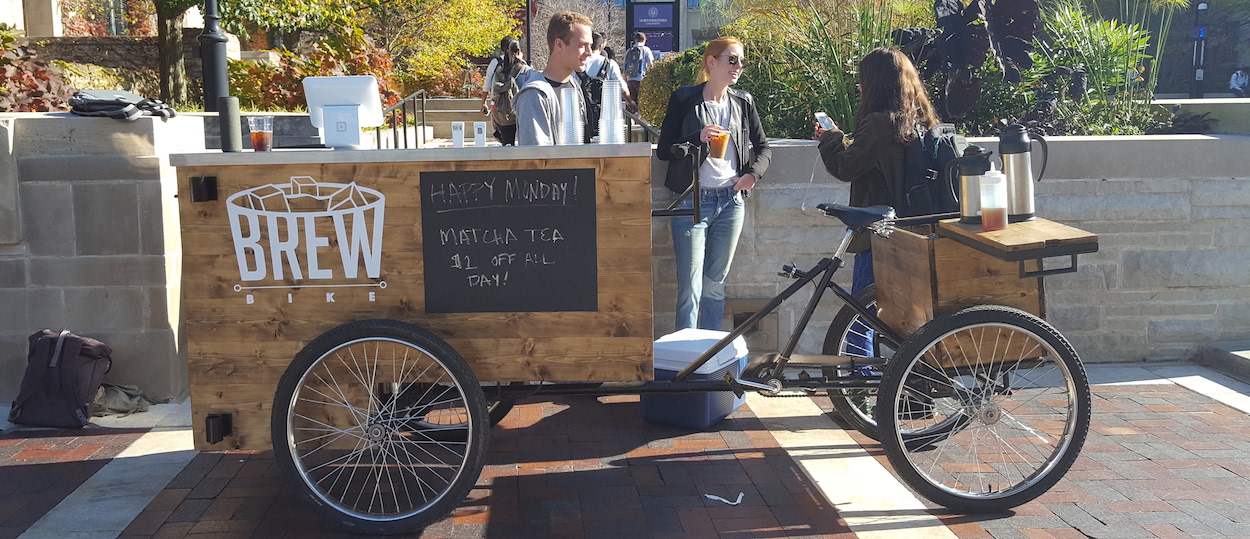 SOURCE: CHICAGO INNO
BrewBike, a coffee startup with roots at Northwestern University, has secured $2 million from investors as it celebrates a major milestone—selling 100,000 cups of coffee.
The startup announced Wednesday that it raised $2 million in a seed round led by CEAS Investments, a venture firm with a focus on early-stage consumer product companies. The round also included Mats Lederhausen, the former managing director of McDonald's Ventures and the former chairman of Chipotle, and other angel investors.
BrewBike was originally launched in 2015 by Lucas Philips when he started riding his coffee stand and bike hybrid around campus, hauling around kegs of cold brew. He'd park it in high-traffic areas, catching students and faculty as they made their way to class. And with a successful Indiegogo campaign that generated $10,000, the startup was able to increase production.
Last year, BrewBike raised an $800,000 seed round from local entrepreneurs like Matt Matros, the founder of Limitless Coffee and Protein Bar, and Mats Lederhausen, the founder and CEO of BE-CAUSE, to expand to other colleges.
Now, the startup has a presence on four colleges, including Northwestern, The University of Texas at Austin, Texas State University and the University of Miami.
"The dream was never to stop at one school, nor was it to stop at four," said BrewBike CEO Randy Paris. "We have much bigger ambitions."
Over its lifetime, BrewBike has employed more than 100 students and collectively paid them over $150,000 in wages, Paris said. BrewBike's management team includes just six people. And though BrewBike got its start at Northwestern, the company's official headquarters are now in Austin, Paris said.
Paris said the new financing will primarily be used to help the startup expand its coffee service to more colleges in 2020. He wouldn't disclose exactly which universities BrewBike is targeting but said the company is focused on warm region expansion as the weather works best for its outdoor bike model.
"Ultimately, we want to make BrewBike not only the best coffee you can get on a college campus, but the most convenient coffee as well," Paris said.
BrewBike got its start selling Matros' Limitless Coffee, but BrewBike recently ditched Limitless and now serves its own proprietary coffee brand that it has developed. The in-house coffee recipe has allowed BrewBike to try its hand at a new wholesale vertical.
The startup now sells "BrewBoxes," otherwise known as boxed cold brew customers can buy online and keep at home. It comes in two flavors: BrewBike's original cold brew ($14.95) and cinnamon brown sugar ($16.95). Paris said BrewBike plans to experiment with a BrewBox subscription delivery service in the future.
"Wholesale is probably our biggest opportunity to grow and to try a new thing," Paris said. "We think we're just scratching the surface of ways we can deliver quality and convenience to customers."(Photo via BrewBike)