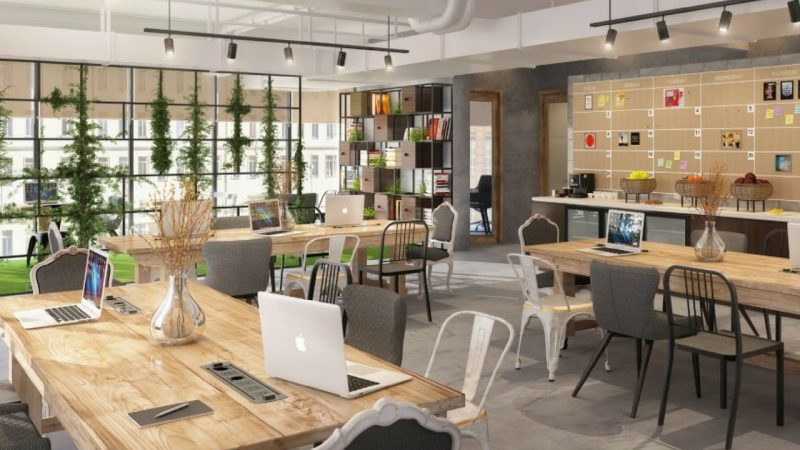 On a morning half-choked by smoke from the nearby California wildfires, Mariam Naficy, the CEO of Minted, unlocks the heart of her growing design empire. And is it ever dull.
Absent are the bold printed pillows and the bookshelves made from reclaimed scaffolding found elsewhere in Minted's San Francisco offices, the better to advertise the 10-year-old company's design pedigree. The only decorations on the room's industrial gray walls are 4-by-8-foot poster boards, each pinned with around 100 printed designs.
Inside this antiseptic merchandising room, the output of the company's secret technology, a crowdsourcing system that combines the collective intelligence of consumers with Minted's own data-fueled algorithm of what sells best, is on display. The public has voted for these save-the-date cards, children's murals and living room paintings, all created by a network of designers who've entered the company's contests. Some of the one million votes cast in the contest count more than others: After 10 years of dissecting data, Minted knows which kinds of voters are likely to be better at predicting best sellers. Naficy, 48, finds out what her company is going to sell next season when the computer spits out the rankings and employees print out and pin up the winners. Call it retail design by upvoting.
The system's ability to dispense with traditional staff designers and product buyers and hand over decisions to the crowd and computer has helped Naficy turn Minted into a profitable business—no easy feat in the high-burnout world of e-commerce startups. Minted says annual revenues are increasing 39% year-over-year,into the low hundreds of millions. Investors are noticing. In December, T. Rowe Price and the European private equity firm Permira ploughed an additional $208 million into Minted, bringing its total money raised to nearly $300 million. The company's valuation is $733 million, estimates venture capital research firm Pitchbook.
"It's the beauty of backing somebody that's really a disruptor of better products," says Brian Ruder, a partner at Permira, which took a minority stake as part of a new growth investing strategy. "It can grow in a whole variety of market types."
Minted's model has lead it to ink deals with upscale furnishing retailers like Pottery Barn Kids and West Elm, which has been selling wall art from Minted since 2014. At Target, Minted's greeting cards jostle for shelf space with American Greetings and Hallmark cards, competing for market share in a $7 billion industry. Naficy estimates that Minted.com's wholesale lines sold in stores, like greeting cards, and future licensing deals around art will soon make up 40% of the company's revenue, with the rest from its online stationery and art business.
After 10 years of dissecting data, Minted knows which kinds of voters are likely to be better at predicting best sellers.
"Greeting cards is largely a physical business," Naficy said. "We're this online business that's now able to transition into really disrupting things that are being sold in physical retail."
It needs to. In the age of Instagram and Snapchat, there's a limit on how much stationery American households want to buy. Minted's online stationery rival Shutterfly ($1.1 billion in 2017 revenue) and the greeting card giant Hallmark ($4 billion in 2017 revenue) have diversified into areas like school photo shoots and entertainment channels.
"It's not that people don't want to send cards or that they don't want photos of their kids and family hanging in their homes—it's that the way the photo manifests itself is different," says Colin Sebastian, an analyst at Baird. "I think there's more pressure on companies like Minted and Shutterfly to be innovative and create different kinds of product."
Naficy built her business to harness that differentiation by tapping into a global network of design. Her inspiration came from a childhood spent in six different countries, including Egypt, Tanzania and Iran, as a daughter of a United Nations development economist. Instead of hiring a team of designers to create Minted's products, Naficy wanted to draw on the artistic talent she had seen growing up around the globe, the independent designers who might live in Nashville or Trinidad and Tobago. Her company handles the production and gives designers a 6%-to-10% cut of the sales, in addition to a cash prize for winning the contest.
"Silicon Valley's answer to creating jobs is to make everyone a coder," she says. "Not everybody wants to be a coder, and you can get a lot out of just actually helping some people be artists."
Naficy, a former Goldman Sachs investment banker and Stanford M.B.A. graduate, originally modeled Minted after her first startup success, Eve.com, a beauty e-commerce site born during the late-nineties dot-com wave. In 1998, all it took for Naficy to build an online retail business was to buy inventory in a warehouse and ship it, and makeup flew off the digital shelves. Eve did $10 million in sales in its first year; two years after launch it sold for $110 millionto the tech incubator Idealab. Two weeks later, the market crashed, and four months after the sale, the new owner fired Eve.com's employees and sold the company's remains to LVMH.
Her next idea, after years running The Body Shop's online business, was Minted. Naficy liked the idea of crowdsourcing, but this was in 2007 before sites like Kickstarter popularized the practice. Instead retailers typically used in-house designers or contractors to select designs before executives handpicked the final products to sell.
Naficy wanted to upend that model by leaving design and curation up to the consumer, but she still had one foot stuck in her Web 1.0 experience of buying products and storing them in a warehouse. "I was a little insecure," she says. "I was doubting myself and thinking I was maybe a little crazy in wanting to crowdsource design." While most of her team focused on finding suppliers and buying merchandise, Naficy set aside money to hire an engineer to build the design contests that became the core of the company.
Minted says annual revenues are increasing 39% year-over-year, into the low hundreds of millions. Investors are noticing.
When Minted finally launched with a collection of well-known stationery brands and a few items from an early version of its design contest, it was nothing like her experience with Eve, where products sold on day one. "Here it was crickets. Silence for a whole month," Naficy said. Without a single sale, she considered shutting down and returning what money was left to friends and family who had invested. But then a few sales started trickling in, and they were all were products that had emerged from the design contests. Naficy decided to run with the crowdsourcing and raise traditional venture capital, attracting $3.5 million from Ridge Ventures in 2008.
Using technology to connect designers and the public builds a moat around Minted's business, says Bill Gurley, a Benchmark partner who has invested in Minted. "It's more democratized, and you're getting out of the way of bias that could easily pop up with an in-house team."
That doesn't mean the product that gets the most votes wins, says Michael Mader, who is both Naficy's husband and Minted's vice president of analytics and crowdsourcing. Instead the company reviews which designs became bestsellers and identifies which voters had the eye to pick them. Minted doesn't need the same voter to come back again and again. By identifying attributes, like a mom living in a coastal city or a single Millennial in a flyover state, the company's technology can build profiles of voters whose taste is most likely to translate to sales. "The people who know how to pick holiday cards versus the people who know how to pick art versus the people who know how to pick wedding invitations—they're different," Mader says.
To Naficy, the model is almost working too well. As contests draw in more designers, the company is expanding beyond Minted.com and into physical retail and other brands to find new ways to use more of the designs (and new income sources for its artists, too). "It's almost too much content. You're the victim of your own success," Naficy says.
In November, the company quietly released a new brand, Pippa, to sell designs at a lower price, expanding beyond Minted's typical upmarket clientele to compete more directly against Shutterfly. This year, Naficy says, a household goods company will use designs from Minted on its labels, one of its first licensing partnerships. It's also in talks with other retailers about selling patterns to be used on everything from clothing to home products. But Naficy draws the line at what seems like a natural extension—forecasting trends and selling that data to retailers.
"We definitely don't want to get sidetracked into becoming a trend-prediction business," Naficy says. "We don't need to know what it is. We just put it up online and sell it, and the trend will then materialize itself."
As Naficy eyes the winning entries from a recent save-the-date design contest, she points out with excitement that people are finally starting to add white borders to photo cards again, instead of the seven-year-old fan-favorite trend of running full-size photos that take up the whole card. "I'm so, so tired of it. I've been waiting years," she says. But the Minted ranking process told her to ignore her own preferences and exercise patience: As much as she was ready to move on, people still wanted to pay money for full-size photos.
"The consumer wants something. That's the hard part. You have to step aside and put your opinion aside."